We have been keeping a very close eye on Arthur, the first tropical storm of the Atlantic season this year, and will continue to do so until the threat it poses has subsided. We are not only monitoring meteorological developments-as with any such storm, the research team at AIR assembles data daily to determine whether the potential losses from the event will meet the criteria we have set for posting an ALERT. So far, Arthur hasn't, but that could change.
Arthur has gradually been getting better organized over the past two days, and both aircraft reconnaissance and NWS Radar indicate signs of eye wall formation. Given the warm Gulf Stream waters in that region and the general lack of wind shear, there is not a whole lot standing in the way of further intensification in the next day or so. The one mitigating factor is that the system is drawing in relatively drier air from overland that should at least keep the storm from strengthening quickly or dramatically.
The question mark in the forecast relates to a low pressure system along the jet stream that will be building in from the northern Midwest on Thursday, July 3. As it approaches, that system will cause Arthur to speed up and turn toward the northeast. Where Arthur tracks will depend greatly on where it is located when the interaction begins, and how quickly the system's forward speed increases. If this is slow to occur, a more westerly track is possible (which is now showing up in some of the track forecasts).
The intensity guidance also took a turn for the worse yesterday. Most of the guidance now strongly suggests Arthur will be a Category 1 hurricane on Thursday evening or Friday morning, and some of the guidance suggests it could be stronger. The forecasts are also calling for Arthur to maintain hurricane intensity through Saturday afternoon. This puts coastal Carolinas under the gun for hurricane conditions, and possibly Cape Cod. Additionally, if you imagine a track that follows the western edge of the forecast cone, you can easily envision a scenario that puts New Jersey, New York City, Long Island, and southeastern Massachusetts in play-where losses can accumulate quickly.
There's still quite a bit of uncertainty as to how far Arthur will curve out to sea after affecting North Carolina, but I've told my colleagues to pack a damage survey kit if they're planning a trip to Cape Cod this holiday weekend!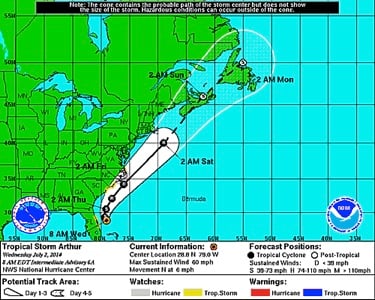 Arthur's potential track (Source:NOAA)