When underwriting a policy, how do you guard against adverse selection? How many variables go into your underwriting decision process?
Underwriting can be slow, complicated, and hampered by incomplete or incorrect data. In some cases, go/no-go decisions can be informed by hundreds of data points, some of which may include building attributes such as construction or occupancy characteristics. For example, you might want to know whether there is a restaurant on the premises, especially if you have a guideline that prevents you from underwriting restaurants. The next step might be to determine geographic hazards; you might, for example, inquire whether the property is near the Atlantic Coast, near a fault line, or in a certain flood zone.
Another component that has become more common in underwriting at the point of sale is a catastrophe loss metric. Some companies may use a ratio involving average annual loss (AAL) to determine whether or not they wish to move forward with a given account. Others may use output from cat models in proprietary pricing formulas.
Another part of this process, which happens right up front, is to cleanse the insured's Statement of Values. Are all of the required fields filled out? How about secondary property characteristics, such as roof or foundation details? This is where data validation (e.g., does it make sense that a 10-story building is constructed from wood?) as well as data augmentation (what if the construction type is missing from my data?) come into play.
Gathering this data can certainly be a tedious, time-consuming process, but it's merely the first step. The next step is to overlay that data over the business logic or underwriting guidelines. For example, you might find that a risk is in flood zone "VE" and want to know:  Does "VE" violate my underwriting guidelines?
As your company adds to or changes its guidelines, you can envision how time-consuming this can become. But what if this entire process could be made more user-friendly and streamlined?
With the release of Touchstone version 2.0 this summer, we'll be introducing a new "underwriting mode" to do just that-streamline the account underwriting process. You'll be able to switch from Touchstone's portfolio mode to underwriting mode via a toggle. The centerpiece of the underwriting mode will be a dashboard to collect all of the aforementioned data points and display them for you in a neat, concise, and easy to consume format.
The underwriting dashboard will also be driven by indicator lights (think stoplights), which will present the business logic in an 'executive summary' format. Are all the signals red? Then perhaps this is not a good account for your company. How about if all of the signals are green? Then it is an easy decision to move forward with this account.  What about a mix of signals? In these cases, Touchstone will allow you to delve into the details of the account and the results to better understand a given account.
Powerful tools like this, coupled with an intuitive and easy to use application, will allow you to make the best decision when analyzing a single account and guarding against adverse selection.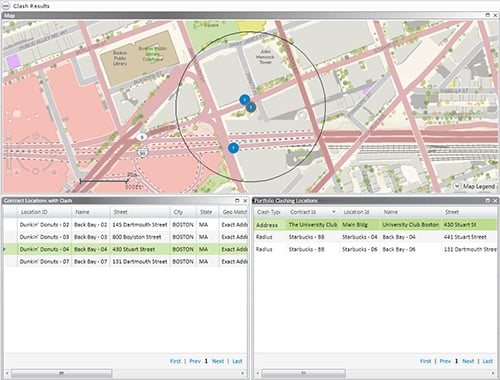 Touchstone's underwriting mode includes a "clash report" that indicates if another account has already been written in the same building.