Death and taxes may be certain, but preseason hurricane forecasts are quite the opposite. Last year's preseason forecasts for above-average hurricane activity were famously wide of the mark, undone by a combination of shorter-term weather patterns over the Atlantic basin that dampened hurricane formation and activity.
June 1 traditionally marks the beginning of the Atlantic Hurricane Season. What can we expect this year? The unexpected!
An average season consists of about 11-12 tropical storms, 6-7 hurricanes, and 2-3 major hurricanes (storms reaching at least Category 3 strength on the Saffir-Simpson hurricane wind scale).
Twelve of the last 20 years, according to the National Oceanic and Atmospheric Administration (NOAA), have experienced above-normal hurricane seasons. But in its 2014 Atlantic hurricane season outlook, released on May 22, NOAA joined the growing chorus of organizations forecasting below-average activity levels for this year.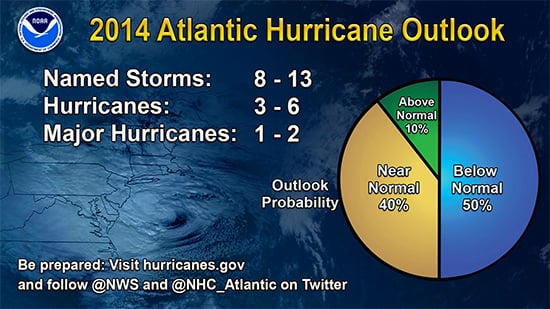 NOAA's 2014 Atlantic hurricane season outlook
Low levels of activity are widely forecast partly because a mild El Niño pattern is possible this summer and an El Niño pattern reduces the risk of hurricanes in the Atlantic. But even in an El Niño year, strong tropical cyclones are still possible. One of the most notorious of all-1992's Hurricane Andrew-made landfall in an El Niño year. This goes to show that it can take just a single storm to cause very large losses. On the other hand, in 2004, another weak El Niño year, Charley, Frances, Ivan, and Jeanne all came calling in Florida, causing widespread destruction and high aggregate losses.
In short, in any given season there is no strong correlation between the number of hurricanes generated in the Atlantic and how many make landfall in the U.S., or what level of losses will be incurred as a result.
There is, however, one thing I can predict with complete certainty-the names that will be used for this year's storms (since they have already been determined by the World Meteorological Organization). The first twelve in line this time around are Arthur, Bertha, Cristobal, Dolly, Edouard, Fay, Gonzalo, Hanna,Isaias, Josephine, Kyle, and Laura.
How many of these will actually get used is anyone's guess at this point. Every year, before the June 1 kick off, we have an informal competition within AIR to see who can guess predict what the season will bring-how many named storms, the number of U.S. landfalling hurricanes, etc. Sometimes one of us even gets close to the actual figures-but this usually has more to do with luck than skill! The statisticians among us will go for 1.9 hurricane landfalls (the long-term statistical average), while our software developers have been known to forecast a couple of dozen-sometimes with more hurricanes than named storms!
| | |
| --- | --- |
| | So, what do the real subject matter experts at AIR think will happen in 2014? Register to find out on June 10 when we present our annual pre-season webinar. |