Hail has been hitting the headlines lately as severe thunderstorm systems moved across Europe, pelting France, Belgium, and northern Germany with damaging hail. But chances are, when you think about catastrophes that cause billions of dollars in insured losses, the first perils that come to mind are hurricanes,earthquakes, or floods. But hail? Probably not in Europe. And certainly not 30 years ago-before multibillion-dollar catastrophes became more common.
On July 12, 1984, a powerful hailstorm pummeled Munich. Hailstones up to 10 centimeters in diameter and weighing as much as 300 grams fell in a swath five to 15 km wide and 250 km long, stretching from Lake Constance almost to the border with Austria. This ferocious hailstorm traveled at 60 to 70 km/h and left some 70,000 homes with roof damage; seriously dinged more than 200,000 automobiles and about 150 aircraft; and injured more than 400 people.
It all started when after an intense heat wave, a cold front approached, weakened, and became a cold air mass below the tropical warm air mass. The next day a low pressure system approached and caused these atmospheric layers to combine. Sun-induced water evaporation from the ground created severe convection within these unstable atmospheric conditions. The first hailstones were observed when a thunderstorm developed over Lake Constance. As it approached Munich at about 8 p.m. the storm strengthened with moist air from lakes in the area (Ammersee and Lake Starnberg) and, fed by the warm, moist air masses over the city, moved on towards the Czech Republic.
The storm left a layer of hailstones 20 cm deep in the streets of Munich within 20-30 minutes. These soon melted, but the storm's record as the greatest loss event in the history of the German insurance industry has stood for decades. It was Europe's most expensive catastrophe for years, totaling 3 billion in today's euros (about USD 4 billion), and served as a wake-up call to insurers to the significant loss potential of hail in Central Europe.
One of the major differences between Germany's 1984 hail storm and those that impacted Germany a year ago in July 2013 is that the 1984 event struck a major city, increasing the potential for high insured losses, while the 2013 hailstorms skirted major urban centers. Nonetheless, Germany's 2013 hailstorms (treated as one event based on the standard hours clause) is one of Germany's top two hailstorm events-either pushing the Munich event into second place or falling just shy of it, depending which source you consult. (Read more about natural disasters in Germany in 2013 in this AIR Currents article.)
The other difference is that today, catastrophe models with high compute power provide the tools to quantify the likelihood of different levels of losses, helping companies structure appropriate reinsurance programs and prepare for extreme events like these. A severe thunderstorm model for Europe (that will explicitly capture hailstorms in Germany) is currently under development at AIR to help companies manage this significant source of potential loss.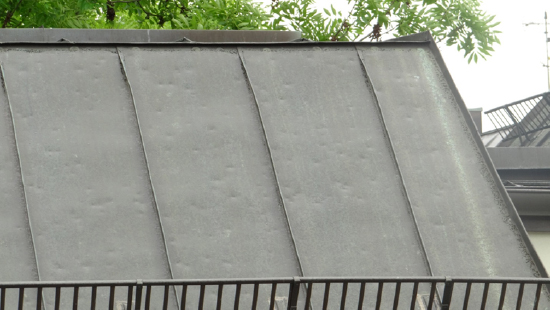 Damage from the 1984 hailstorm is still visible even after 30 years; this roof can be seen from AIR's Munich office.