You can't ignore it. Whatever your thoughts on causes and effects, the world's climate is changing-and this has far-reaching implications for the insurance industry both now and in the future. That's because changes in the climate and weather patterns have the potential to affect extreme weather events.
Of course, extreme events can and do happen with or without climate change. But they are still so infrequent and the data are so sparse that we won't be really confident that their frequency or severity has fundamentally changed for many years to come. For many extreme perils, the natural variability to date is larger than the underlying climate change tendency. Projections, however, show that in the coming decades the underlying tendency is expected to emerge more clearly.
The emerging risks team at Lloyd's recently asked a wide-ranging selection of industry experts to author a collection of short articles on the subject. The resulting report, Catastrophe Modelling and Climate Change, was published on May 8 2014.
The document has three main parts. The first reviews the latest findings in climate change science and its effect on extreme weather events. The second outlines what catastrophe modeling is and how it came to be developed. And the third examines whether and how catastrophes models account for climate change through a series of case studies.
AIR's contribution was an article on U.S. Severe Thunderstorms and South Pacific Tropical Cyclones written by Ioana Dima and myself. In it, we argue that there is not yet statistically significant evidence of an effect on severe thunderstorm risk in the U.S. The project on the South Pacific was sponsored by the World Bank to understand the potential impact on the islands under various climate change projections; it is shown that climate change has some (albeit small) impact on wind losses in the South Pacific.
Topics addressed by other contributors included:
Sea level rise and storm surge losses from Hurricane Sandy
European windstorms
Advanced statistical analysis on hurricanes
European windstorms and uncertainty in Global climate models
UK winter rainfall patterns
All of the contributors confirmed that, to the extent there are any existing trends in the data, they are already implicitly captured in the output of their catastrophe models as a result of the model calibration process.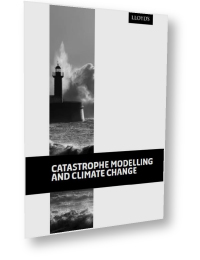 It is widely agreed that the climate is changing, with impacts on average temperature, precipitation and sea level rise, some of which have already been observed. Nevertheless, we should be cautious about deducing that losses will always be higher due to climate change. In areas where sea levels have already risen, of course we would expect losses due to wind driven surge to increase. However, variations in modeled losses should be expected, as AIR shows in the report on tropical cyclone impacts for South Pacific islands.
Extreme events are complex processes and the expected impacts under a warmer climate are fraught with uncertainty. For example, even if there is an increase in extratropical cyclone activity across Europe, a decrease in losses could still occur if there is a simultaneous shift of storm tracks away from areas with the highest concentrations of exposure. These and a myriad of other considerations are under active investigation at modeling firms; until a consensus is reached (see the recent post by Peter Sousounis on Climate Change and Weather Extremes-Towards an Understanding), climate change further adds to uncertainty around modeled loss estimates for extreme events.