Few lines of business are as complex or as challenging from an underwriting perspective as crop insurance. The sheer number of variables at play-from the impact of the weather across different stages of growth, to the tolerance of different crops to environmental stress, to location-specific farming practices and technological change-make estimating potential crop losses a daunting task.
As part of our mission to make it less daunting, AIR held its first ever Crop Symposium during our Envision Conference in Scottsdale, Arizona. It was a great success. Participants from reinsurance companies, reinsurance brokers, and crop insurance companies gathered for the event, which featured a panel session as well as presentations from AIR staffers and five guest speakers.
Joe Glauber (USDA Chief Economist) generated considerable interest when he shared the latest yield and price volatilities affecting the main crops in the U.S. Multiple Peril Crop Insurance (MPCI) program. Keith Coble (Mississippi State University), an active participant in the recently passed 2014 Farm Bill, reviewed what to expect from the USDA's Risk Management Agency (RMA) in 2015. The impact of price volatility and rating methodology on the Corn Belt's gains and losses was the subject of a presentation from Gary Schnitkey (University of Illinois). The U.S. Farm Bill was also the focus of the presentation by Tom Zacharias (National Crop Insurance Services), which explored its impact on the profitability of the crop insurance industry.
Kyle Beatty, President of AIR's sister company Verisk Climate,described the remote sensing capabilities currently available to crop insurers and reinsurers for better management of crop portfolio risk during the growing season.
A highlight of the day was the industry panel focused on opportunities and issues in crop insurance. Kevin Berg (Rural Community Insurance Services), John Peppard (Partner Reinsurance),and Tom Zacharias (National Crop Insurance Services) were the discussants. Among the topics covered were the impact to the crop insurance industry of the new U.S. Farm Bill, RMA rerating, and the future direction of the program.
AIR staffers presented the new AIR Crop Hail Model for the United States, the Fund Designation Service, updates to the MPCI models for the U.S. and China, and CATRADER crop model tips and tricks. And the AIR crop team closed the symposium with an overview of global agricultural insurance and trends, the crop model development roadmap that AIR will pursue in the coming years, and a discussion of why the industry is in need of more detailed modeling at a finer resolution to better assess crop portfolio risk and optimize profits under the current price, yield and regulatory uncertainties. All in all, it was a great day, and we hope to see you at our next crop symposium .
In the meantime, look for the season's first CropAlert™ from us later this month!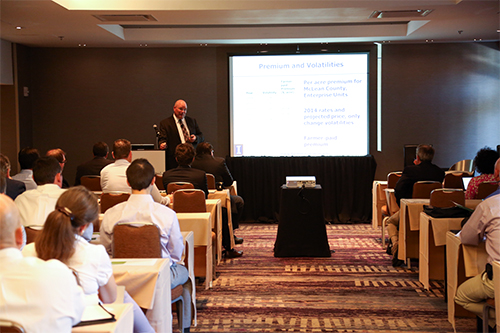 One of the presentations at AIR's First Crop Symposium