A year ago, a powerful and destructive EF-5 tornado hit the town of Moore, Oklahoma. Leading the damage survey team that AIR sent out the following weekend, I gained a new appreciation for the destructive force of tornadoes, and severe thunderstorms in general.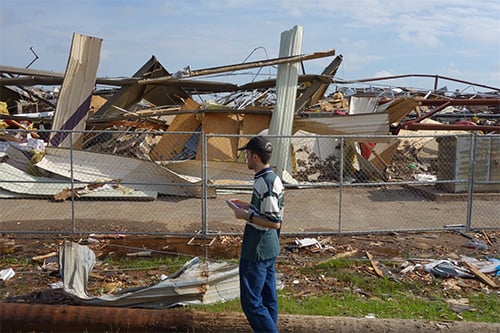 Here I am surveying the damage in Moore
Moore has been "hit" by major tornadoes three times since 1999. That has led to the conclusion that the city is some sort of tornado magnet. People give various explanations, such as the bends of nearby rivers, heat island effects, or topographical impacts. However, there is no scientific consensus on any of these theories.
Perhaps in part due to this perception, the City Council in Moore has approved the first building codes in the country meant to lower damage from tornadoes. Since many people believe that no building stands a chance when an EF-5 tornado hits it, the obvious question and somewhat common line of thought becomes, 'why bother?'
First, a quick definition of what it actually means for a tornado to be an EF-5. NOAA's definition is that there was EF-5 level damage somewhere within the footprint of the tornado. However, faraway from the tornado's core, but still within the footprint, the winds are much lower. Therefore, there must be a decay of winds away from the center of the tornado-a wind field-just like we're used to seeing in tropical cyclones. And if the winds are still damaging some distance away from the center, but not completely catastrophic, building codes can play a significant role in reducing damage.
On our damage survey in Moore, we walked perpendicular to the tornado's track in seven different locations. We were able to take observations and get real data that has been used in AIR's newly updated severe thunderstorm model.
At the very center of the tornado track, we observed complete devastation-so much so that bark was stripped off trees, metal signs were impaled through cars, and homes were swept (not so) cleanly off their foundations. As we walked away from the center,homes were still total losses, but they had structural elements standing. Further away, there was major siding and roofing damage. And near the edge of the reported tornado footprint, minor damage was observed to siding and roofing.
AIR's new model will feature an updated tornado wind profile based on our own damage survey findings and data from a collaboration between AIR and Texas Tech University. Additionally,the new simulated tornado footprints implemented in the model area appropriately "tornado sized"-not bound by an artificially contrived grid system. Rather than smearing out the risk across all nearby properties, the model produces a realistic (and intuitive) wind field, meaning that for a strong tornado, homes in the center can suffer complete destruction, while homes toward the periphery (but still inside the tornado) may experience only minor damage.