A little over a year ago, an influenza virus called H7N9 began to sicken and kill humans. Along with many others around the world, I watched and waited to see if a new pandemic was in the making. There have now been more than 400 confirmed human cases, at least 20% of which resulted in death. Fortunately, a second wave of cases in China now appears to be on the downswing, most likely because of the closing of live poultry markets and the arrival of spring.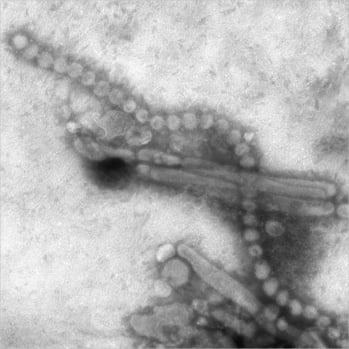 Influenza A (H7N9) as viewed through an electron microscope (Source: Centers for Disease Control and Prevention)
Although hundreds of H7N9 cases have been identified, the majority have been linked to direct contact with infected poultry or visits to poultry markets. Despite efforts to close markets down, the disease has persisted. It may also be circulating among wild birds, and if this is so it will be very difficult to eradicate completely. Furthermore, unlike its more virulent H5N1 avian flu cousin, H7N9 infects birds without causing overt symptoms, which hampers early warning methods that rely on identifying sick birds.
The big question remains: will H7N9 become a pandemic? The current state of science does not allow us to predict this. The virus has already evolved to infect humans and survive at mammalian body temperatures. To become a pandemic, all it needs is the ability to spread efficiently from person to person (watch this pandemic spread simulation). Limited transmission of H7N9 from human to human has been identified, but it is not occurring continuously. Until the human-to-human transmissibility increases, the pandemic potential of the virus is limited.
But that could change. Based on our analysis of historical data along with modeling, we estimate that there is a 3-4% probability in any given year that an influenza pandemic could strike. Even if an H7N9 pandemic does not start any time soon, studies of previous pandemics have found that precursor viruses may circulate for years before a pandemic is initiated. The H7N9 virus, just like other influenza viruses, mutates frequently, which increases the chances for genetic changes that could make it easier for the virus to spread from person to person.
The WHO Global Influenza Surveillance and Response System (GISRS) and member organizations have been working on vaccine candidates-to be prepared in the event that the virus does lead to a global pandemic. Just last month, an H7N9 vaccine entered clinical trials. I think these efforts give us a head start in the race for vaccine production. However, H7N9 is constantly undergoing genetic changes, and no one knows whether a vaccine developed now will protect us against a future H7N9 pandemic strain.
Although H7N9 cases appear to be slowing down, we must continue to monitor the situation. With only a few mutations, H7N9 could indeed still cause the next flu pandemic.
Learn more about influenza pandemic:
Modeling a Modern-Day Spanish Flu Pandemic