What a winter! While we were suffering through a prolonged deep freeze here in the northeastern U.S., one powerful storm after another pounded northern Europe. In total, 43 storms with hurricane force winds formed in the North Atlantic between October 2013 and March 8, 2014, according to the National Oceanic and Atmospheric Administration (NOAA). Many of these storms weakened or dissipated before affecting northern Europe, but those that didn't delivered strong winds and heavy rains. This was the wettest winter for England and Wales in nearly 250 years according to the UK Met Office, and the total loss from events across Europe is expected to be several billion euros.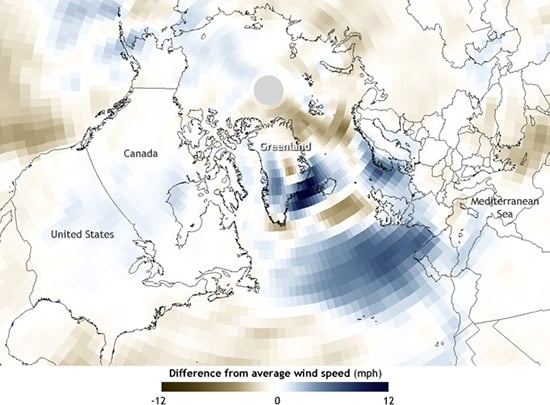 Wind speed anomalies for January-February 2014, compared to average wind speeds from 1981-2010. (Source: NOAA)
A portion of this loss occurred between December 23 and January 2, when windstorms Dirk, Erich, Felix, Gerhard, and Anne slammed into the UK. Five storms in just nine days might seem unusual, but in fact storm clustering, as the phenomenon is known, is an all too common occurrence in Europe and it can have significant insurance and reinsurance implications (read this AIR Currents article to learn more).
The behavior of the late December storm cluster is typical. As one storm (Dirk) moved across the Atlantic it drew a significant amount of warm, moist air from the south and interacted with a cold front from the north. However, large-scale climatic conditions (a stronger-than-normal Icelandic Low and Azores High) daisy-chained that cold front with the warm front of the next system (in this case, Erich), and the process repeated with the other storms.
As if having a series of storms barreling down on the same general region isn't bad enough, clusters can also contain very powerful storms. For example, in 1989 eight consecutive storms hit Europe, including Daria, which caused more than EUR 4 billion in insured damage (1990 currency). In 1999 Lothar and Martin,separated by just 36 hours, caused a combined loss of more than EUR6 billion. More recently 2007's Kyrill struck four days after Hanno, and Emma followed quickly in the wake of Johanna and Kirsten in 2008.
The cumulative damage from a rapid succession of storms can increase losses. The storms that hit the UK this winter, for example, delivered a lot of precipitation and as the ground became increasingly saturated, losses from flooding escalated. Individually, the storms in that cluster were relatively weak, but the aggregate losses can mount alarmingly, making it crucial to explicitly account for the clustering phenomenon when estimating potential losses.
Read more about European winter storms:
European Windstorms: Implications of Storm Clustering on Definitions of Occurrence Losses
Fierce Winter Storm over Europe-Are You Prepared?
European Windstorm Models: Questions You Should Ask