One way to prevent flood damage to properties is to raise them above expected inundation levels; another is to build defenses to prevent water from reaching them in the first place. But what if you could simply make the problem go away by helping homeowners relocate and then removing the exposure?
Some communities have been doing this for decades. Tulsa, OK, for example, paid for several rounds of flood buyouts in the 1970s. And to reduce future disaster losses, the Federal Emergency Management Agency (FEMA) has been assisting with this task since 1988. Its Flood Mitigation Assistance Program provides funds for projects to reduce or eliminate risk of flood damage to buildings that are insured under the National Flood Insurance Program.
Projects include property acquisition programs that are 75 percent funded by FEMA, but administered by state and local communities. These local parties work together to identify areas where buyouts make the most financial sense.
In a buyout project, the community buys private property, enabling its former owners to move on. Purchases are never compulsory, and where owners choose to participate they are offered up to the pre-flood fair market value of their homes. In the 20 years since the initiative was stepped up following the devastating Midwest floods of 1993, more than 20,000 properties have been bought.
Having acquired title to a property the community clears the site. Sometimes a home is physically relocated to another lot, but more often it will be sold for salvage or simply razed. Once it is public property the community cannot develop or sell the land, but must keep it as open space, often designating it for use as a park or a wildlife refuge.
Hurricane Sandy spurred additional initiatives using federal disaster recovery funds. In New Jersey for example, the Blue Acres Program is using $300 million to buy Sandy‐damaged homes in flood‐prone areas at pre‐storm values. About 1,000 properties in tidal areas, and another 300 or so in other communities that have flooded repeatedly, will be acquired.
In New York, the Governor's Office of Storm Recovery just announced an expansion of its Enhanced Buyout Program to the Graham Beach neighborhood of Staten Island. Enhanced buyouts enable homes to be sold for their pre-storm value plus a 10 percent bonus. To encourage community continuity, if the homeowners then purchase property within the same county they are eligible for an additional five percent incentive.
Buyouts are not for everyone. For one thing, there is far less funding available than demand from homeowners who want to sell, so opportunities are limited. And the process can be very lengthy, especially if projects involve multiple properties. But although these programs have dealt with only a tiny part of the problem, there is no doubt that in those cases they provided a permanent and cost-effective solution.
All nine states impacted by the Midwest floods of 1993 participated in FEMA's hazard mitigation program. When Iowa was inundated again in 1999, eight of the counties included in federal disaster declarations had participated in buyout programs. Because they had moved off the floodplain, 271 families who had suffered in 1993 were spared a repetition of the experience.
Following yet more floods in 2008, a study of 12 Iowa communities concluded that a total of $98,707,041 in losses had been avoided thanks to buyouts. Comparing the cost of acquiring properties to the total losses avoided it noted a positive benefit cost ratio of 2.19. Shouldn't we be doing more of this?


Post Flood Buyouts in St Charles, MO, (1988, left) Reduced Exposures in at Risk Areas (2012, right)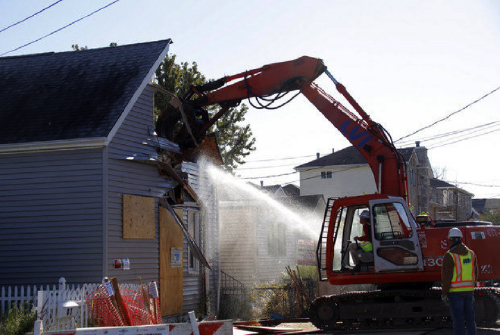 A property acquired through a buyout project being demolished (Source: the Governor's Office of Storm Recovery, New York State)