Wish you had significantly more compute resources during your busiest modeling periods? Want to leverage the resources and flexibility of the cloud without storing your data there?
We are seeing growing interest from companies that want greater on-demand elasticity-that is, the ability to expand their compute resources as needed without purchasing additional hardware. This additional compute capacity can be found in clouds like Microsoft Azure and Amazon EC2, which are already available to AIR's Touchstone® application today. But can you leverage the capacity of these public clouds without moving your entire modeling platform, operations, and data into the cloud?
The answer is yes. It's called cloud bursting. Cloud bursting allows you to keep your modeling system and data within your company's data center, while all or some of the computational processing is offloaded to the cloud. Although Touchstone is already capable of leveraging the public cloud infrastructure today, Touchstone will be seamlessly integrated with the cloud and will fully automate the process of on-demand cloud bursting. In fact, we're going to demonstrate just how it works at our upcoming Envision 2014 conference in Scottsdale.
Is the cloud bursting option a good fit for your company? Here are some benefits to consider:
Data Security
You maintain visibility and control over data by keeping them on premises. Only data required for analysis is transmitted to the cloud. Of course, they are first encrypted before being transmitted(both to and from the cloud), and all transient data is deleted at the end of each analysis. So no data is persisted in the cloud.
Direct Control of Cost
One of the biggest concerns for businesses when making any sort of technology decision is the bottom line. With cloud bursting, you only pay the cloud provider for the compute resources utilized.
Flexibility
The bursting happens on-demand-that is, only where, when, and how you want it to happen. You can use it during renewal season, for special projects, or as a part of your permanent modeling resources.
So how does the cloud bursting process work? Here's a description of what you'll see in Scottsdale: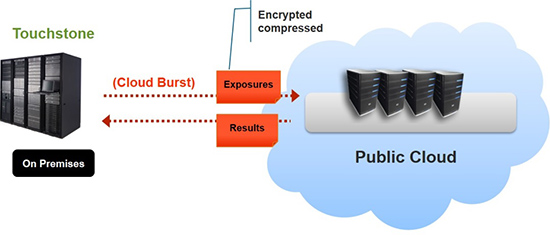 A specified number of cloud-based compute nodes are provisioned and activated.
A subset of exposure data attributes-only required for a given analysis job-is extracted from on-premises Touchstone databases. It is then compressed, encrypted,and uploaded to compute resources in the cloud.
Once the computational tasks are completed, the encrypted analysis results are downloaded from the cloud to the on-premises host system and deposited into Touchstone databases.
Finally, the cloud compute resources are deactivated and all transient (temporary) data is purged. This ensures that no data persists in the cloud, compute resources are released, and all charges are stopped.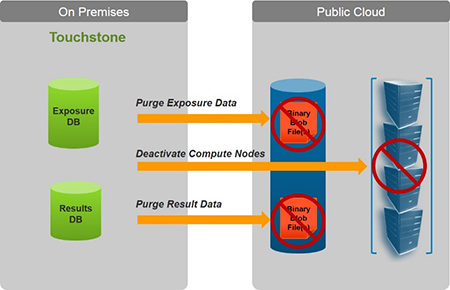 The steps described above will be automated and seamlessly executed via the Touchstone application. From the end-user's perspective, there is no difference between the executions of analysis workflows fully on premises and those that leverage cloud bursting.
When it comes to leveraging the cloud, choice is key. Cloud bursting in Touchstone will provide you with another option to easily extend your on-premises modeling with elastic compute capacity available in the public cloud without replicating and storing your data there.
Ultimately, whether this option makes sense for you will depend on your companies' requirements with respect to security,performance, compute resource availability, and hardware budgets.
Look for this new and powerful capability in an upcoming version of Touchstone.