OK, so an epic snowstorm just dropped five feet or more of snow on parts of western New York state, and the 24-hour United States snowfall record set in 1921 may get beaten-and it isn't even Thanksgiving yet. What's going on?
Arctic air pouring southward has brought temperatures 15- 35°F below average to much of the eastern two-thirds of the United States, but the culprit responsible for the intense snowfall in western New York is lake-effect snow.
Lake-effect snow is a localized phenomenon that happens when cold air passes over warm lakes. The temperature difference between the water (relatively warm) and the air (relatively cold) is the key ingredient, and it is typically greatest in November, as the residents of western New York have been so forcefully reminded in the last few days. Warmed and moistened air near the lake's surface rises to form clouds and then snow (or rain if it's early in the season).
Usually bands of snow clouds form, shaped by the body of water and the prevailing winds. These bands may be only a few miles wide but may extend inland more than 100 miles. Snowfall rates can exceed 5 inches an hour and generate dangerous whiteout conditions with zero visibility.
The direction of the wind relative to the long axis of the lake is another important ingredient. Air that passes down the long axis of a lake picks up more moisture. More moisture, more snow. Friction at the downwind lakeshore and rising terrain add to the snowfall potential. Lake-effect snow is most common in the Great Lakes region from November to February, and can impact areas from Marquette, MI, to South Bend, IN, to Buffalo, NY.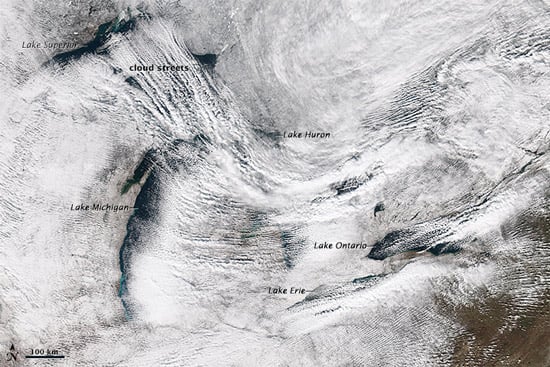 Lake-effect snow formed over the Great lakes on November 18, 2014 (Source: NASA)
So, lake-effect snow in this area at this time of year is not in and of itself unusual. What is making the headlines now is the prodigious amount of snow that has fallen. Western New York just got nailed by large lake-effect snow bands that formed on Monday night over Lake Erie and Lake Ontario and then hung around for nearly 24 hours. The unseasonably cold air, coupled with prevailing and persistent west-southwesterly winds aligned perfectly with the long axes of these lakes. This enabled particularly large amounts of moisture to be picked up and deposited as massive amounts of snow.
In much of Buffalo and to its north, there was a mere dusting-just 3.9 inches fell at Buffalo Niagara International Airport, and North Tonawana received only half an inch. But more than 5 feet fell in parts of Buffalo itself, and communities all along the I-90 corridor from Silver Creek to the towns south of Buffalo have been walloped. Lancaster, South Cheektowaga, Elma, Alden and West Seneca and areas like Hamburg, Orchard Park, and East Aurora and towns and villages further south were among the worst-hit. Roads and schools have closed, roofs have collapsed, and several deaths have been blamed on the storm.
Lake-effect snow can be generated downwind of any large body of water that remains free of ice-it is by no means unique to the Great Lakes region. Significant lake-effect snow is regularly produced by the Great Salt Lake in Utah for example. Furthermore, bay-effect snow can form in the same way over the ocean, occasionally impacting Cape Cod Bay in Massachusetts and Chesapeake Bay in Maryland and Virginia.
Is this week's punch to upstate New York a portent of what we are in for this winter? It's far too early to tell. NOAA, for one,paints a mixed picture in its seasonal outlook and cannot project the severity of snowfall this winter. NOAA does say, however, that a repeat of the extreme cold and snowy patterns of last year is unlikely. Here in the Northeast, we certainly hope so.