Engineers without Borders (EWB), a national nonprofit organization, unites 13,000+ volunteers from a variety of engineering and non-engineering disciplines to help to make the world a better place. So far EWB has implemented 450 projects in more than 45 developing countries, impacting directly or indirectly more than 2 million people worldwide. Projects focus mostly on water, sanitation, and energy challenges as well as information systems, infrastructure design, and agriculture solutions.
The greatest impact of EWB's work across the globe comes from the transfer of knowledge: AIR has many talented engineers and scientists in house who can provide novel solutions to these life challenges and more. We host the EWB Boston Chapter - Tanzania team meetings at our head office and I participate enthusiastically. The Boston chapter has two ongoing water supply projects, one for three villages in Honduras and the other for two villages in Uganda. Chapters typically make a five year commitment to a community. To ensure the quality control and quality assurance, each project is supported by professional engineers.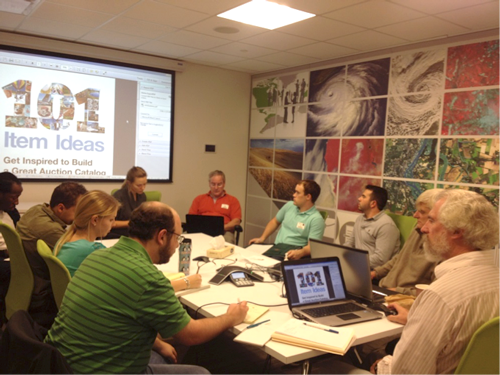 An EWB Boston Chapter - Tanzania team meeting at AIR's headquarters
I first joined EWB as a student member at Georgia Tech. It was a great opportunity to understand global engineering challenges and to improve my leadership, project management, and cross-cultural communication skills-and ultimately to think like a global engineer. Being a water resources engineer, I was so excited about changing the world; even as a student I got to design and implement solutions for health and infrastructure needs in developing communities!
After graduating from Georgia Tech, I served as the EWB MIT student chapter mentor on a Uganda water supply project. It's a challenge to be in the field in a developing country, making your design actually work with limited materials. You need to know the local materials and be familiar with the local skill sets. It's important to engage the local community, making sure they're part of the design and build phases. They also have to be involved in the implementation process so they have ownership and will take charge of systems maintenance and be ready to act if something breaks down.
Here I am (on the left) in a water tank built by MIT's chapter of EWB in Uganda
EWB supports community-driven development programs worldwide, collaborating with local NGO partners. These partnerships are the basis of a long-term relationship to assure the community's needs are sustainably met. There are many organizations out there that aim to make a better world, to help communities located in rural parts of sub-Saharan Africa and other developing areas across the world. In my opinion, key factors behind the success of EWB projects are engaging the local communities and making them stronger by empowering them with the capacity to meet their own needs.
EWB programs offer transformative experiences for volunteers too and are a great way to be introduced to real-world engineering problems and creative solutions. For more information, contact me (nsenolcabi@air-worldwide) or visit the EWB website.