Amidst the sweet serenade of Salsa and Latin folk music, attendees at this year's Latin American Seismology Congress in Bogota, Colombia were treated to a series of groundbreaking (pun intended) research results from AIR's seismic hazards team. The new insights improve the understanding of earthquake and tsunami risk across South America and will be incorporated into AIR's South America Earthquake model, scheduled for release next year.
First, a new unified historical earthquake catalog for the entire continent was showcased. It integrates available historical earthquake catalogs and harmonizes approximately 51,000 historical events (of magnitude 4 and higher) across all of South America, while accounting for differences in each catalog's reported measurements. A second study used improved high resolution soil datasets to predict ground motion in Bogota, Colombia and Santiago, Chile.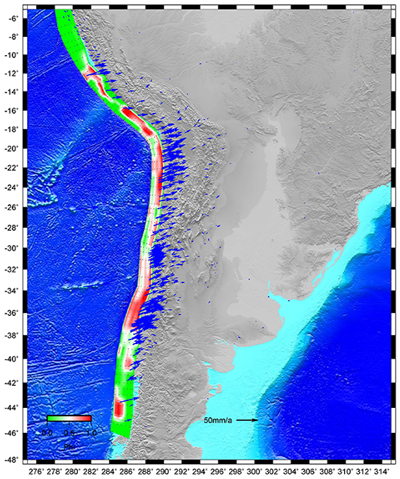 Locking distribution along the Nazca-Andean trench: red areas are locked and therefore represent the areas of highest stress accumulation; white ones are about 50% coupled; green patches are almost freely slipping; Blue arrows indicate observed GPS velocity vectors with respect to the South American plate. (Source: Galgana et al.,20141)
The historical earthquake data was then paired with twenty years' worth of published GPS measurements-which track how the Nazca plate (beneath the southeastern Pacific Ocean) moves relative to the neighboring South American and Caribbean plates-in a block modeling experiment.
Block modeling is a physically-based technique that treats a region as if it were a system of elastic blocks bounded by faults and subduction zones. The approach, which takes into consideration the actual geology of a region and determines the deformation due to plate motions elastic locking along all modeled fault systems, has already been used in AIR's earthquake models for Japan and Canada. To complement block modeling for South America, AIR is also implementing a continuum model that calculates strain rates or surface deformation.
Two models were presented at the conference: the southwestern Peru-Chile region, and the northern Ecuador-Colombia-Venezuela region, a geologically complex area made up of several independently moving "microplates" separated by faults and subduction zones. The resulting maps show how the extensive Andean area deforms, and more interestingly, they also identify areas along the Nazca Trench (specifically on the slab interface) that are locked or slipping.
Some locked areas have recently produced powerful, tsunami-generating megathrust earthquakes. When the tsunami generated by the 2010 magnitude 8.8 Maule earthquake (the sixth largest earthquake ever to be recorded by a seismograph) devastated coastal towns in south-central Chile, tsunami warnings were issued by 53 countries around the Pacific. After the 2014 magnitude 8.2 Iquique earthquake, the Chilean government issued mass evacuation orders; the quake left about 2,500 homes damaged and nearly 900,000 residents spent the night of the quake in safer, inland locations. While the plate interfaces near these two quakes are no longer as tightly locked, other areas, especially around Antofagasta and Africa (in northern Chile), are still seeing high stress loading, according to the model.
The fourth AIR presentation showcased a scientifically unique and innovative approach that integrates trench locking information into AIR stochastic models. The method recognizes the presence of asperities-essentially high-friction spots on the subducted slab that produce locked and loaded areas-thus providing a realistic, physical framework for estimating rupture probabilities along the Nazca trench for large earthquakes. This significantly advances AIR's previous magnitude-based framework.
In fact, much of this research will be incorporated in AIR's new South America Earthquake Model, which is scheduled for release in 2015. Until the model is released, though, these results should be anticipated with patience, and taken with a grain of (ahem) basalt.
---
1 Galgana G., Mahdyiar M., Shen-Tu S., Pontbriand C., Klein E., Wang F., Shabestari, K., and Yang, W.  (2014). Assessing the Seismic Potential of South America with Crustal Deformation Models and Historic Earthquakes. In the Earth Sciences Research Journal Vol. 18 (Special Issue) Abstracts, Proceedings of the Latin American and Caribbean Seismological Commission, International Association of Seismology and Physics of the Earth's Interior (LACSC-IASPEI), July 23-25, 2014, Bogota,Colombia.