As if to make a point, Cyclone Hudhud made landfall yesterday on the east-central coast of India. Exactly one year ago on October 12, 2013, Phailin, the first major tropical cyclone to hit India since 1999, arrived slightly further north as a Category 4 storm. Its high winds and heavy rain-up to 300 millimeters in some areas-flooded roads, uprooted trees, damaged crops, cut electricity, and destroyed thousands of poorly constructed homes. At least 25 people were killed and estimates of economic losses range from USD 700 million to USD 4.5 billion (according to local governments and Swiss Re, respectively).
In the storm's wake, the General Insurance Corporation of India (GIC Re) asked AIR Worldwide to quantify potential losses had Phailin made landfall at different locations on India's east and west coasts, and potential losses from storms stronger than Phailin. AIR's analysis shows that insurable losses from a "Phailin-like" storm making landfall in a major population center in India could exceed USD 1 billion-and losses from a more powerful storm making a direct strike on Mumbai could top USD 100 billion.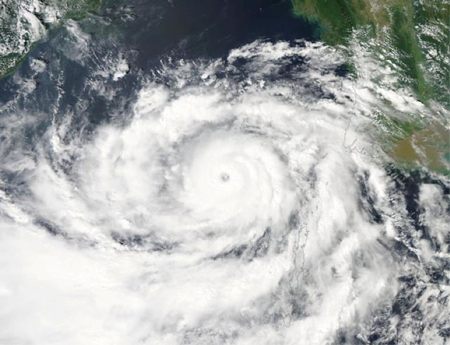 Tropical cyclone Phailin on October 10, 2013 (Source: NASA)
Phailin was a massive storm, yet damage was relatively limited. The storm made landfall in an area with a relatively sparse population, low insured exposure, and a steep continental shelf and elevated overland terrain that helped limit flooding due to storm surge. Furthermore, India conducted its largest storm evacuation ever before Phailin's arrival; more than 900,000 people were relocated from the coast to shelters in schools and government offices. In contrast, in 1999 Cyclone Orissa made landfall about 160 km north of Gopalpur and killed about 10,000 people. After applying insurance take-up rate assumptions, AIR's insured loss estimate for Phailin ranged from USD 22 million to USD 106 million, based on different size and intensity assumptions.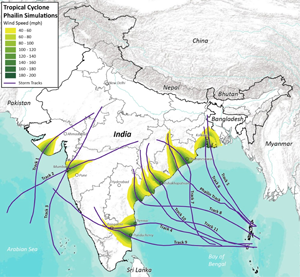 Wind speed simulations of a Phailin-like storm at various landfall locations across India. Click to enlarge. (Source: AIR)
However, if Phailin or a storm stronger than Phailin had made landfall in an area with a larger population or more insured exposures, the insurable losses could be dramatically higher. The AIR analysis indicates that if Phailin had made landfall in Chennaior Mumbai, insured loss could range from USD 1 billion to USD 5 billion. Insured loss from a storm similar to 1999's Orissa would range between USD 5 billion to USD 30 billion. If a storm like Typhoon Haiyan-which struck the Philippines last year and killed thousands-hit Chennai, the insurable loss could exceed USD 30 billion, and in Mumbai losses could top USD 100 billion.
Clearly, tropical cyclones have the potential to cause massive loss across India, and the domestic insurance industry should be prepared for a full range of potential losses. To learn more about how tropical cyclones could cause massive damage in India, read the full white paper.