This is a very exciting week as AIR ships the industry's most detailed fully probabilistic and event-based inland flood model for United States. The release of this model in Touchstone®and CATRADER®, with its high resolution, impressive performance, ease of use, and array of features, sets a new standard for understanding, managing, and transferring the risk associated with this peril.
The model itself is built to meet the wide spectrum of flood risk management needs in the insurance industry. It covers flooding to properties located both on and off of floodplains. It features a physically-based hydraulic model that incorporates hydrological regions covering the contiguous United States as well as contributing areas in Canada and Mexico. The model domain includes detailed river networks extending over 2.2 million km (1.2 million mi), with approximately 335,000 distinct unit catchments and includes every stream with a drainage area of at least 10 km2 (3.9 sq. mi).
Like other recent high resolution models from AIR, the model being released this week leverages the new architecture and remarkable scaling capabilities of Touchstone. This platform provides the industry with a suite of capabilities and solutions that was not previously available for the flood peril.
The model can be used in both Portfolio Mode and recently introduced Underwriting Mode. Analysts are now able to include inland flood with other U.S. perils. They can look at EP curves for this peril as a part of portfolio management and combine the flood losses with other modeled peril losses using loss grouping capabilities. Risk managers can look at marginal impacts of adding a contract that includes inland flood coverage. And they can assess their overall risk by incorporating claims practices and extra expenses using Touchstone's loss modification capabilities.
In addition to bringing the first probabilistic model with detailed loss analysis capabilities, the model introduces hazard lookups and portfolio accumulation capabilities using AIR and FEMA flood layers in Touchstone's Hazard Analytics and Geospatial Analytics modules.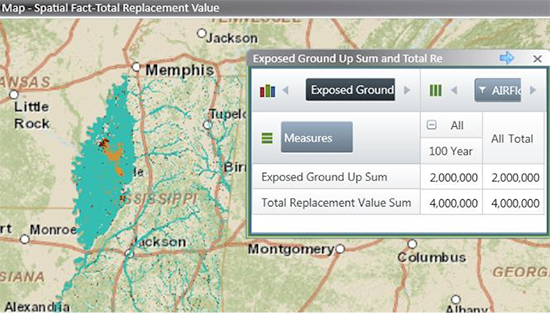 Hazard lookup using AIR and FEMA flood layers in Touchstone's Geospatial Analytics Module
Touchstone's Hazard Analytics Module enables underwriters to quickly look up hazard characteristics for a location or group of locations. For example, a user can ascertain if the location is in an AIR or FEMA 100-year or 500-year flood zone, the distance of this location to a water body, or its base flood elevation. The AIR hazard layers are a valuable resource as they are based on the AIR model and provide coverage throughout the U.S.
Along with the flood model, AIR is releasing 100-, 250-, and 500-year return period hazard maps for the entire U.S. Touchstone's Geospatial Analytics Module incorporates visualization for high resolution AIR and FEMA hazard layers. These can be used to manage accumulations of replacement value or exposed limits, or they can apply user-defined damage ratios for each flood zone.
And I'm happy to say that our clients are as excited about getting their hands on this game-changing model as we are about releasing it!