Due to the large number of tropical cyclones that form over the warm water of the Northwest Pacific Basin and the 8,700 miles of its coastline, China is impacted by more tropical cyclones each year than any other country. On average, 11 affect China annually, either as direct hits or damaging bypasses. Just 5% arrive as major typhoons (Category 3 intensity or greater), and there has not been a Category 5 landfall in China for more than 50 years.
The danger from the weaker storms China experiences is primarily precipitation-induced flood. Weak storms—or storms that weaken soon after landfall—have a greater opportunity to interact with other weather systems than stronger storms, enhancing the precipitation potential. Slow, weak storms also can impact a region for a longer period, stretching a heavy rain event into many days or even weeks.
Pre-Existing Weather Systems
Tropical Cyclone Nina (1975)—almost a super typhoon prior to landfall—exemplifies storms that interact with a pre-existing weather system. Nina made landfall as a Category 1 storm, then weakened rapidly to tropical storm strength. For the next four days Nina moved slowly inland, delivering a marginally impressive 4–8 inches of post-landfall precipitation before encountering a cold front propagating southeastward off the Tibetan Plateau. The interaction between the cold front and Nina was spectacular—and deadly. More than 40 inches of precipitation fell in a 24-hour period in the mountain areas of southwest Henan Province. The Banqiao Dam ruptured, unleashing the contents of the Huaihe River and initiating a domino effect as progressively larger amounts of water sequentially slammed into and burst 61 additional dams, flooding up to 385 square miles; as many as 200,000 people died.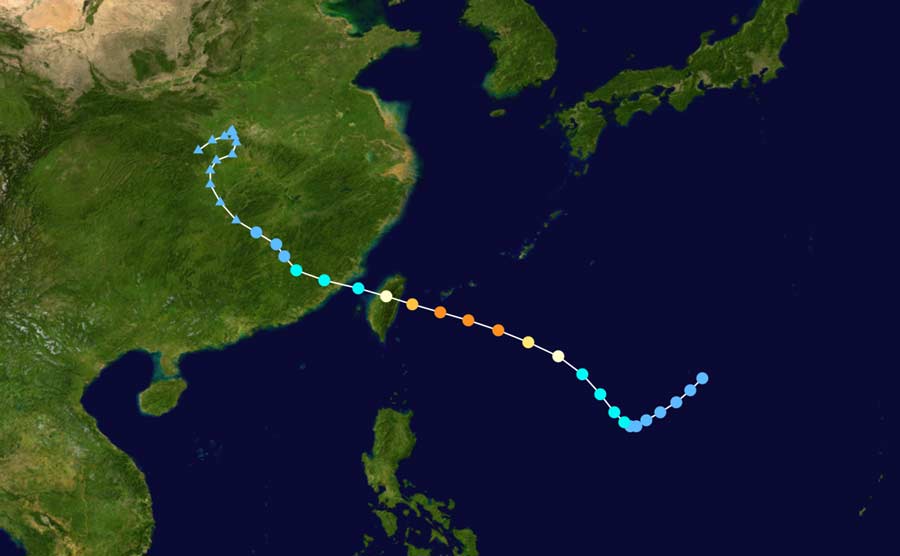 Regional Climate Features
Tropical Storm Bilis (2006) typifies storms that interact with a regional climate feature. Bilis made landfall in Fujian province and then encountered the South China Sea Monsoon—an annual feature of the region during spring and summer—and took an unexpected turn to the southwest. It slowly weakened into a tropical depression over the next three days. Maximum precipitation amounts exceeded 20 inches in many locations, even far inland. The economic loss from Bilis totaled RMB 26 billion, which was twice the loss caused by infamous Typhoon Saomai that struck a more densely populated part of China less than four weeks later as a Category 4 storm, with losses dominated primarily by wind.
Weak but Long-Duration Events
An enfeebled tropical depression like Tropical Storm Fitow (2001), which wandered between Hainan and Guangdong provinces over an extended period, shows the impact of a weak but long-duration event. Fitow made no fewer than five landfalls (two in some areas) and delivered copious amounts of rain. According to the Shanghai Typhoon Institute (STI), Fitow was so weak from a wind standpoint that it was a tropical depression for all but 36 hours of its life (so weak that the Japanese Meteorological Agency and the Joint Typhoon Warning Center listed it as a very short-lived storm). Shortly after crossing Hainan (the first time), however, Fitow developed into a tropical storm. According to the STI, Fitow weakened back to a tropical depression the next day and remained at that intensity for another 12 days, when it finally dissipated. For the entire 15-day period, Fitow traveled a net distance of only 620 miles at the equivalent of less than 2 mph. STI reported 6–15 days of rain across much of Guangdong and Hainan provinces, with maximum precipitation of 50 inches. The People's Daily stated that flooding and 10 days of heavy rainfall caused the collapse of more than two million structures in Hainan and Guangdong provinces.
More Damage from Flood than Wind
Each of these typhoons caused significantly more economic damage from flood than from wind, and they did so at tropical-storm-strength wind speeds or lower. While Nina and Bilis demonstrate the importance of accounting for a typhoon's interactions with regional weather and climate features, Fitow underscores the need to account for the entire life of these weak tropical storm systems, even if most of their existence is in the form of a tropical depression and most of their lifetime is spent offshore.