The torrential rainfall across the southern Plains states on May 25 and 26 led to extensive and devastating flooding and to the tragic loss of at least 19 lives. In Texas it also compromised the integrity of two dams, leading (fortunately in both cases) only to some precautionary evacuations and minor damage.
The earthen dam retaining Padera Lake in Midlothian, Texas, was in the process of being rebuilt when it was overtopped and came close to failure. It was considered unlikely to burst dramatically,but could have slowly released its water into another lake nearby. And the century-old dam forming the well-stocked fishing lake in Bastrop State Park actually failed and released more than 35 million gallons, washing out hiking trails, footbridges, and campsites.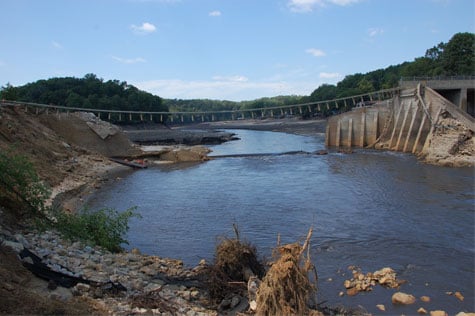 Damage caused by the large breach of the Lake Delhi Dam, Iowa, in 2010 (Source: FEMA)
The failure of dams, although rare,can be catastrophic and may cause immense damage and loss of life. The most extreme example is the sequential failure in 1975 of the Banqiao Reservoir Dam and more than 60 others in Henan Province,China, which killed an estimated 171,000 people and cost 11 million people their homes.
Earthquakes and flooding can trigger dam failures, both large and small, but there is usually some underlying deficiency that is a causative factor, such as:
Inferior construction materials and/or techniques

Geological instability or earthquake shaking

Poor maintenance

Human,computer, or design error

Internal erosion (earthen dams particularly)

Seepage causing sinkholes in the dam
Only 4.7% of dams in the United States are federally owned, and these are large structures in good condition. According to FEMA,56.4% of dams are privately owned. Most dams are small, have low hazard potential, and are properly maintained by responsible owners. Many, however, are not so fortunate, and both the risk of failure and its consequences are real and growing.
Within the United States there are many failures, some of which result in the loss of lives and property. Between January 2005 and June 2013 a total of 173 failures were reported by state dam safety programs, along with 587 incidents that could have resulted in more. In one recent year alone, according to the Association of State Dam Safety Officials (ASDSO), failures reported in 23 states caused dam and downstream repair costs of USD 54.3 million.
In the decade before 2008, the number of dams in the U.S. noted by ASDSO as being susceptible to failure rose from 1,818 to 4,308(an increase of 137%). Almost every state contains unsafe dams, and overall their number is increasing at a faster rate than those being repaired. Furthermore, the 2013 update of the National Inventory of Dams indicates that since 1998 the number of high-hazard-potential dams- whose failure would cause loss of life-has increased from 9,281 to more than 14,700.
According to ASDSO, regulators, who generally have no control over local zoning issues or developers' property rights, are increasingly concerned by the growing number of high-hazard dams because more and more development is occurring downstream from them. Increasing exposure in harm's way: Sound familiar?
National Dam Safety Awareness Day on May 31 was a timely reminder of this hazard. It commemorates the collapse of the South Fork Dam in Johnstown, Pennsylvania, in 1889, which cost more than 2,200 lives and remains the worst incident of this type in U.S. history. The mission of the awareness day is to promote individual and community responsibility and best practices for dam safety, and ways of lessening the impact should a failure occur. These are messages that need to be heard and acted upon.