They're finally here! Following years of preparation, the U.S.Geological Survey (USGS) has released the 2014 National Seismic Hazard Maps. These display earthquake ground motions for various probability levels across the conterminous United States, and replace the previous versions published in 2008. They are important because they are applied in seismic provisions of building codes, insurance rate structures, risk assessments, and other public policy. As such, they also impact catastrophe models.
The new hazard maps are based on an assessment of the best available science and incorporate a broad range of models and parameters. Information on potential earthquakes and associated ground shaking was obtained from science and engineering workshops involving hundreds of participants, including myself and several of my colleagues. The research behind the new maps was also review by several scientific organizations and state surveys. Expert panels and a steering committee were consulted.
Behind the maps lie new earthquake catalogs and seismicity-based source models developed by the USGS. What follows is a highly condensed overview of significant updates:
For the Central and Eastern U.S., scientists have implemented anew moment magnitude catalog and completeness estimates, modified the sizes and occurrence rates of New Madrid Seismic Zone earthquakes, and considered induced earthquakes, for example by underground fluid injection, or "fracking."
In the Intermountain West, they implemented new smoothing algorithms, fault geometries for normal faults, multiple Wasatch fault alternatives, and fault slip rates based on models obtained by inverting geodetic and geologic data together.
For the Pacific Northwest, new Cascadia fault rupture models have been developed to incorporate additional earthquakes in the southern end of that zone.
For California, the new UCERF3 (USGS Open-File Report 2013-1165) provides a more complete inventory of fault ruptures based on new deformation models, magnitude-area equations, and seismicity input parameters.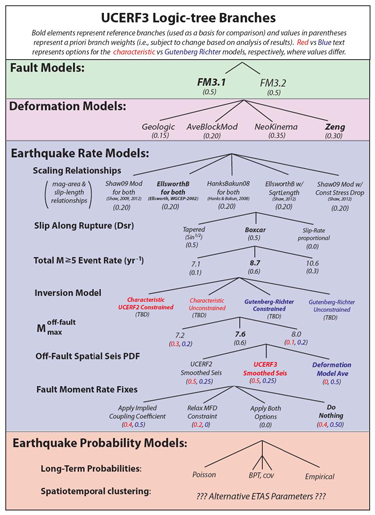 With four times as many logic tree branches than the UCERF2, the epistemic uncertainty is carefully considered.
(Source:
USGS (PDF)
)
The USGS has also applied several new published ground motion prediction equations (GMPEs) for shallow crustal earthquakes, subduction interface, and deep earthquakes. These have resulted in small changes across most of the country, but have caused significant changes in localized places.
In the Central and Eastern U.S., three of the eight GMPEs used are new or have been modified, but the main changes are due to the modified weights applied in the construction of the mean ground motion. Compared to the 2008 seismic hazard maps, the new GMPEs and updated weights tend to decrease the probabilistic ground motions in the 2014 hazard maps by 10-20% across most of the region.
In the Western United States, new GMPEs developed by Pacific Earthquake Engineering Research Center are used for shallow crustal earthquakes in active tectonic regions. In general, the combined effects of lower medians and higher standard deviations in the updated GMPEs cause only small changes.
In the Pacific Northwest region, updated GMPEs for interface and intraslab earthquakes are included, and the overall changes due to updated equations in this region are less than 5-10%.
Well, that was a brief introduction to some of the most significant changes coming to the U.S. Seismic Hazard Maps and you'll be sure to hear much more from us over the coming months. If you're interested, data and the maps themselves are available for download from the USGS website.