The insurance industry has seen a marked increase in the availability of tools to quantify the risk from natural catastrophes. Interest in them is considerable, as evidenced by the crowd that came to Lloyd's of London in February for the launch of OASIS, an open access cat modeling platform. Many other solutions providers, particularly for flood risk, have entered the cat modeling community in recent years.
The insurance industry has welcomed these additional (and sometimes alternative) views of risk, although many companies are still unsure about how best to integrate them into their risk management workflows. But in the scientific community, "multi-modeling"-or, in scientific parlance, "ensemble" modeling-is standard practice. Examples include climate change scenarios from the Intergovernmental Panel on Climate Change (IPCC), which take an average of multiple models when estimating future climate change. When calculating the local intensity of earthquake shaking, it is common to weight and combine the results of multiple ground motion prediction equations.
At AIR, we believe that multi-modeling is good for the industry and in line with well accepted practices in the scientific community. Furthermore, the existence of multiple models encourages innovation and differentiation in the catastrophe modeling industry. That's why we deliberately architected Touchstone® to incorporate multiple views of risk. Users can already import shape files produced by third parties or created internally for risk quantification-a capability that is particularly important for perils and regions for which there are not yet models available. Clients can also import third-party terrorist target locations and accumulate exposure around these imported locations.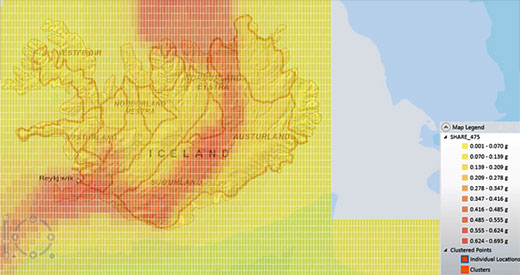 Third-party shapefiles, like the 475-year peak ground acceleration (PGA) map show here from Seismic Harmonization in Europe (SHARE), can be imported into Touchstone
In the near future, we will be embedding third-party data in Touchstone, and we're currently in discussion with various companies to make their hazard maps available. We are also developing the ability to blend output from multiple models in future versions of the platform.
The statistician George Box once said: "Essentially all models are wrong, but some are useful", which is one of the most frequently heard quotes in cat modeling. In that sense, not all models are necessarily built to the same standard and thus may not be equally useful. Initiatives that combine hazard modules from one source and vulnerability modules from another can very well lead to results that simply don't make sense. After all, the ultimate purpose of a cat model is to accurately estimate losses, so any model-whether developed by a single organization or a combination of organizations-should be judged not only on the validation of its individual components, but most importantly, on the validation of its loss output.
The cat modeling space has an exciting future ahead and AIR certainly has an aggressive development plan for Touchstone. We look forward to working with companies as the scope of modeling continues to expand to ensure that validation remains an integral part of selecting, using, and combining models.
Learn more about geospatial solutions and integrating third-party data in Touchstone.