Experience our new catastrophe (CAT) modeling analytics software application and evolution of CATRADER®, designed for modeling the loss potential of reinsurance contracts and portfolios, industry loss warranties, and insurance-linked securities.
Catastrophic events cost the property insurance industry a record USD 135 billion in 2017.
After multiple years of below-average losses, 2017 was a reality check. Yet despite various reinsurers suffering large losses, the reinsurance market has not hardened as much as anticipated. Are you prepared to make adjustments to your reinsurance book?
Access Verisk catastrophe models through the latest technology that delivers the same performance and scalability as Touchstone®, for core reinsurance workflows.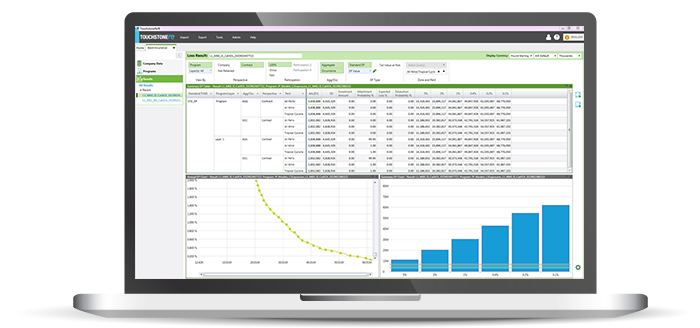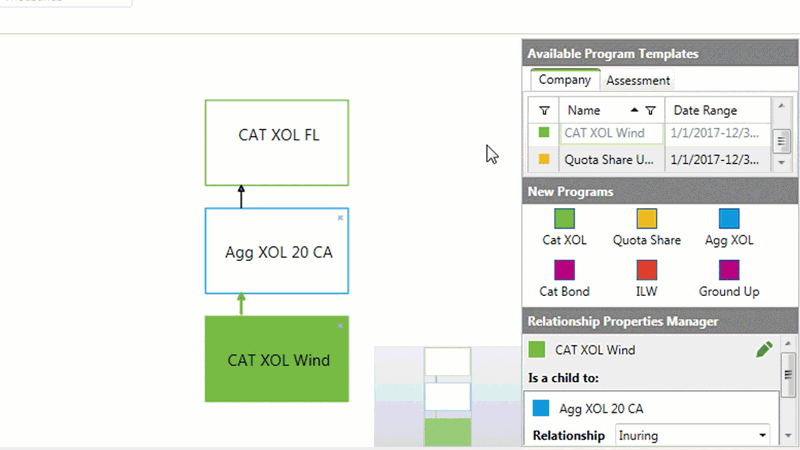 Model the risk of complex reinsurance contracts to inform your underwriting and pricing decisions like never before.
Touchstone Re™ was built with a highly flexible financial engine that enables you to easily model the potential losses of a variety of complex reinsurance structures typically seen in today's reinsurance market—from umbrella, top and drop, cascading, and inner- and outer-aggregate deductibles—as well as unique structures you may not have seen before.
New drag and drop functionality makes it easy to model elaborate chains of source and inuring programs in a single structure so that you can visualize how losses flow through the structure in a simple and efficient process.
Roll up your portfolios and view risk aggregation.
Quantifying your accumulations and contributions of risk on a global, regional, peril, and line of business level is critical to evaluating new treaties, selecting risk transfer options, managing to regulatory requirements, and informing future growth.
Touchstone Re enables you to view all the standard metrics—such as AAL, EP curves, TVaR, and more—from multiple loss perspectives, all in one place.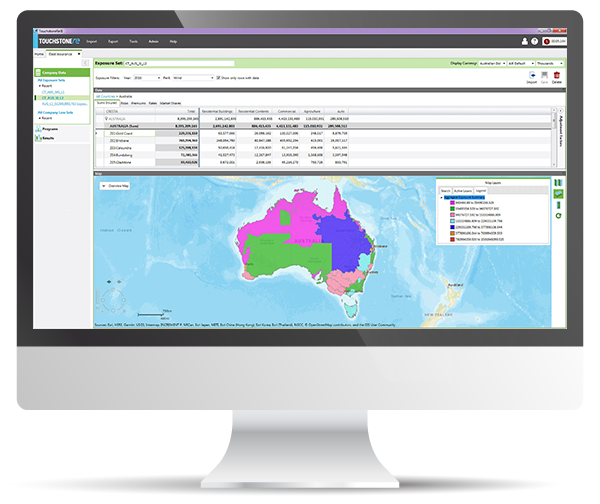 Leverage the Verisk Industry Exposure Database (IED) to write more business
Whether your exposure data is in the form of sums insured, premiums, risk counts, or market share, the Verisk Industry Exposure Database can be used to estimate loss potential when detailed exposure data may not be available or when you are looking to expand your business into new regions.
Insurers can also leverage the Industry Exposure Database to benchmark their portfolio risk relative to the industry—a meaningful starting point to assessing data quality.
Save time with automatic data transfer from Touchstone into Touchstone Re
If you've been running a detailed loss analysis in Touchstone, you'll no longer have to worry about exporting a company loss file (CLF) to apply reinsurance terms or to include these losses in a portfolio rollup. Now you can open Touchstone Re and simply pick up where you left off, accessing all of your data in a more reinsurance-oriented workflow.
Of course, if you need to pass aggregate loss information to a third party as part of a reinsurance submission, Touchstone Re can easily import CLFs.
Consistency with CATRADER, but with speed and productivity enhancements.
Existing CATRADER clients can rest assured that any modeling done in Touchstone Re will generate equivalent loss numbers. Touchstone Re is the next generation evolution of CATRADER, so you can migrate to Touchstone Re with confidence, knowing that the results will match.
But Touchstone Re is not just CATRADER in a new user interface. From being able to save multiple loss perspectives simultaneously to a much faster system overall, you'll save significant time running analyses, leaving you more time to focus on interpreting results and make more informed risk management decisions.