Explore the sensitivity of catastrophe risk to a changing climate.
Verisk offers innovative science-based solutions for assessing and mitigating the risk of climate change across different sectors of the insurance industry and the interconnected global economy.
Our climate change solutions help you understand rising losses from physical, transitional, and liability aspects of climate risk and thoughtfully prepare operational and strategic resilience initiatives that meet the needs of all stakeholders. Verisk provides comprehensive data sets and tools for managing climate change risk and addressing the insurance industry's biggest concerns related to the changing climate.
With Verisk's climate change solutions, you can:
​

Stress-test and rebalance your portfolios

​

Gain peril-specific insights and mitigate risk

​

Improve climate risk insights and streamline reporting
Read the solutions brief on Verisk's Climate Change Practice
Verisk Is Helping Organizations Respond to the 2021 Climate Biennial Exploratory Scenarios
Verisk's Climate Change Practice is working to help firms satisfy the Bank of England's 2021 climate biennial exploratory scenarios (CBES) by exploring the financial risks posed by climate change. Verisk has relevant experience providing solutions for the General Insurance Stress Test 2019. This exercise tests the resilience of banks' and insurers' current business models to climate-related hazards to help inform decisions about adjustments that may be needed in the coming decades. For this exercise, Verisk prioritized three critical regions and perils (Great Britain inland flood, Japan typhoon, and U.S. hurricane). Our team of experts is prepared to undertake similar studies on a consulting basis for other regions and perils.
A document outlining the methodology, results, and data for this study is available to clients who license Verisk models.
Contact AIR's Climate Change Practice for further details on the 2021 CBES
Verisk Is Helping Clients Respond to the BMA Climate Change Exposure Assessment 2021
In the second half of 2021, the Bermuda Monetary Authority (BMA) issued the Climate Change Exposure Assessment 2021 (CCEA). The CCEA asks firms to perform a set of climate risk scenarios on various region/peril combinations and report the modeled losses. The scenarios cover four perils: hurricane, storm surge, inland flood, and wildfire. Verisk released a document providing guidance for clients on how to use Verisk's models to report for United States (U.S.) hurricane, inland flood, and wildfire. In addition to this document, Verisk has prepared the Verisk Support Pack for CCEA 2021, which contains year-event mapping tables and several event loss modification factor files.
Climate Change Knowledge Center

Explore the interactive graphic below to discover how the frequency and intensity of atmospheric perils might change as the climate warms. (Length of bars indicates the degree of uncertainty.) Download Verisk's white paper on the science behind the chart.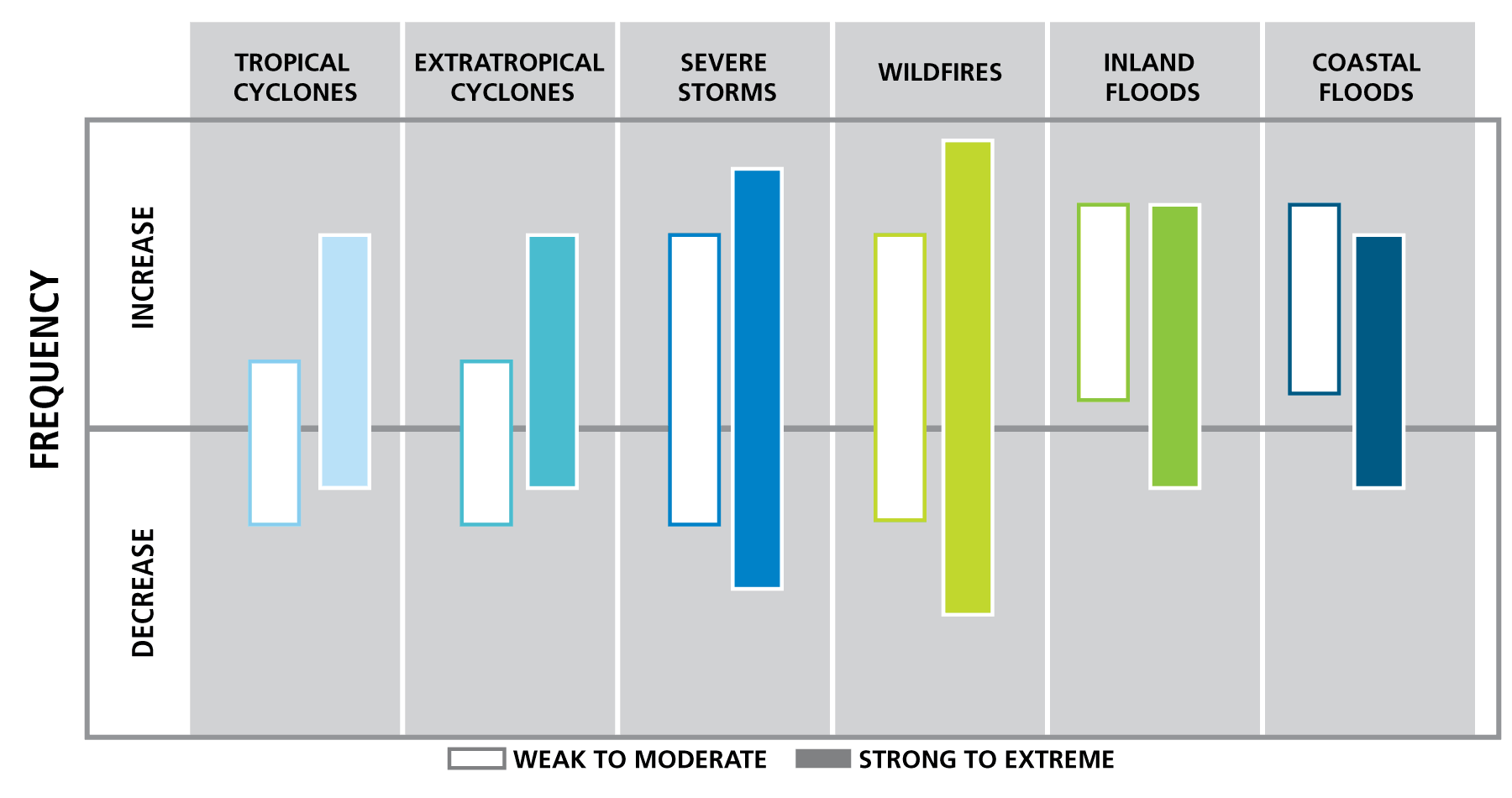 Develop a Comprehensive View of Climate Change Risk
Our solutions can help you evaluate the risk of climate change across several verticals to plan strategies for resilience and growth.