After making landfall as a Category 4 storm on August 25, 2017, Hurricane Harvey stalled over southeast Texas and delivered unprecedented rainfall and flooding. The hurricane significantly disrupted Houston's economy by damaging homes, vehicles, businesses, and infrastructure. The maximum observed storm surge was more than 3 meters, with sustained wind speeds of 130 mph (213 km/h) near the landfall location, and rainfall in excess of 50 inches in parts of Houston.1 From this event, local businesses are estimated to have suffered billions of dollars in damage, not taking into account Harvey's disruption of Houston's economic output, valued at $10 billion per week before the hurricane.2

Download our supply chain issue brief to learn how the 2016 earthquake in Kumamoto, Japan, resulted in production shortfalls in the global automotive industry
Impact of Harvey on Regional Manufacturing
Hurricane Harvey's affect on the supply chain may first be studied by inspecting the regional businesses. Within the state of Texas, the industry exposure database from AIR's Supply Chain Model lists nearly 50,000 business entities (excluding services) that contribute to the fields of manufacturing, utilities, mining, crops, and others. Figure 1 shows Hurricane Harvey's track, along with the geographic locations of these businesses, overlaid on a flood inundation map (based on AIR's August 31 ALERT post). More than 13,000 business entities are within the red line that marks the flood envelope, among them oil refineries, plastic molding facilities, and chemical plants.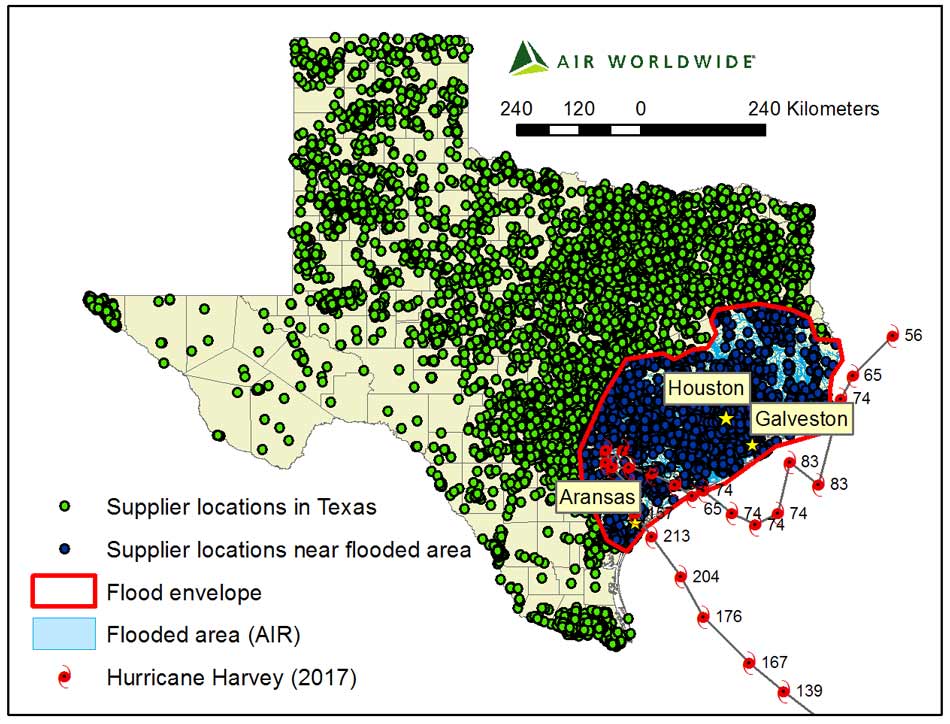 Affected Industries
Figure 2 shows the percentage of potential revenue loss across different subsectors within the flood envelope.3 Compared to other subsectors, petroleum and coal products manufacturing (37%), chemical manufacturing (13%), and oil and gas extraction (12%) may have suffered the greatest impact. These three are critical subsectors because they provide what can be raw materials for other industries, and the disruption to any of the suppliers in these industries can have a ripple effect on others. For example, petroleum is used by the petrochemicals industry to make plastics and resins, which are then used to manufacture semiconductors or motor vehicle parts. The business disruptions in the raw materials supply chain may propagate to other industries or countries that rely on these or related exports from the Port of Houston. As the Houston region rebuilds itself in Harvey's aftermath, these contingent business interruptions, either global or local, remain to be seen.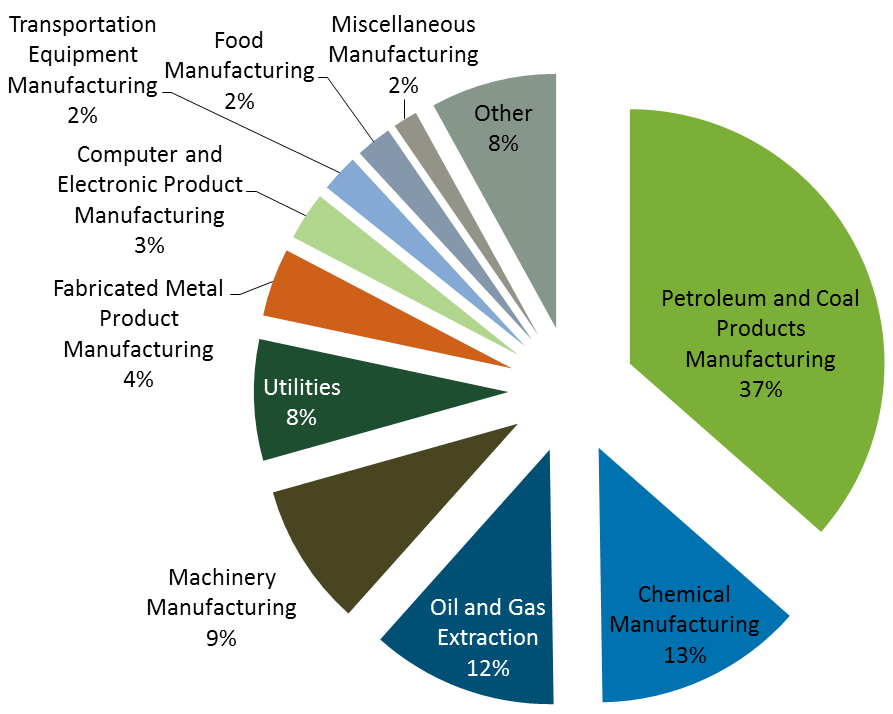 Preparing for the next Supply Chain Disruption
Flooding from Hurricane Harvey is continuing to disrupt the lives of people and businesses and their ongoing recoveries. The expected losses from these types of low frequency and high severity events, commonly known as tail events, can be captured through probabilistic modeling of contingent business interruption risk. By accounting for tail events, businesses can build robust risk-optimized supply chain networks and develop improved supply chain risk management (SCRM) strategies to help mitigate losses from any future events.
In an upcoming post, we'll take a look at how we expect the business disruption caused by Harvey to propagate and affect industry supply chains around the globe.
Listen to AIR discuss the greatest supply chain risks in 2017 in the Claims Journal Podcast