What ultimately became Typhoon Nepartak was born on July 2, making 2016 the second-latest starting western Pacific (WPAC) typhoon season—just a shade ahead (in the standings) of 1973, when Wilda formed on July 1, and several days behind 1998, when Nichole formed on July 9. The late start to the 2016 WPAC typhoon season is not surprising given the developing La Niña conditions. In a previous blog, it was noted how 1973, 1983, and 1998 were all strong La Niña years and all had late starts.
What is a bit surprising is how wide-awake Nepartak is right now. At 03:00 UTC on July 6, Nepartak's central pressure fell to 900 mb, making it only the third storm since the Japan Meteorological Agency (JMA) has been keeping records to achieve so low a central pressure so early in the season. The only two other times were in 1966—when typhoon Kit reached 880 mb on June 26 as it was recurving several hundred km east of Taiwan—and 1971—when typhoon Amy reached 890 mb on May 2, making it the earliest ever to reach 900 mb or lower. Amy, however, was nearly 2,000 km east of Taiwan and curving away. Nepartak, while still several hundred km to the east-southeast, is pointed straight at Taiwan, although it is expected to weaken by a few tens of mb before landfall.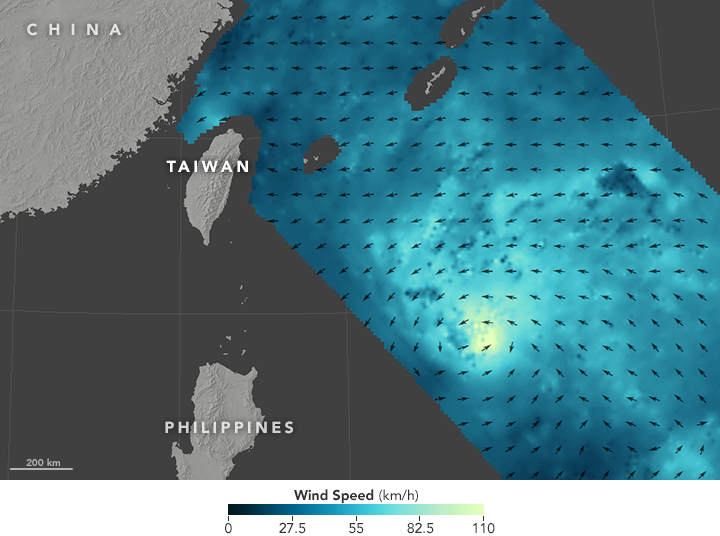 Map based on RapidScat data acquired on July 6, showing winds near the sea surface tightening into a vortex as Nepartak approaches Taiwan. (Source: NASA)
What this means for the season ahead
While the current focus is on Nepartak, the event triggers speculation as to what the rest of the 2016 WPAC typhoon season will be like. An obvious question is whether the late start will have any bearing on the total numbers, the range of intensities, the number of landfalls, and the losses.
A quick peek back at the aforementioned La Niña years shows that 1973 generated 21 named storms with three reaching Category 5 equivalency (a central pressure of 920 mb or lower); 1983 generated 23 storms with two reaching Category 5 equivalency; and 1998 generated 16 storms with just one reaching Category 5 equivalency. For perspective, last year—during the strongest El Niño on record—there were 27 storms, three of which were Category 5 equivalents.
According to Tropical Storm Risk (TSR), a normal season spawns 26 named storms, 16 typhoons, and nine strong typhoons. So, the chances are good that this season we will see fewer than the normal number of storms and maybe fewer than the normal number of intense storms—even though we already have our first.
As far as agency forecasts for the basin, the WPAC does not receive nearly the same attention as the Atlantic. Whereas there are easily a dozen different agencies or organizations jumping in with seasonal forecasts for the North Atlantic, the WPAC has but a few. The TSR forecast issued on May 7 projected 22 named storms, with 13 reaching typhoon status and six reaching strong typhoon status for this season, and the update released this week changes just one estimate—increasing the number of strong typhoons to seven, likely the result of Nepartak.
Not necessarily less damage
While it is more or less accepted that this year will see below normal activity in the WPAC, there is little correlation between low basin activity and low damage potential.
Recall Typhoon Zeb of 1998, which slammed into Luzon with a central pressure of 900 mb and then struck glancing blows to Taiwan and Japan during an otherwise quiet season. A similar example comes from 2010, which yielded a record low number of named storms (14) but nonetheless spawned Typhoon Megi, which made a direct hit in northern Philippines with a central pressure of 885 mb.
While landfalls are especially difficult to predict a season ahead, one piece of information that may hold true during strong La Niña years in the WPAC is that the associated strong easterly trade winds may tend to steer storms more toward the west in the tropics instead of allowing them to recurve. The last three strong La Niña events yielded an average of only two landfalls per season for Japan rather than the more typical four. But then, there is a lot left to the WPAC typhoon season; in fact, it has only really just begun.