While the Atlantic hurricane season has just ended, the European windstorm season is already underway. Thus far, it's been relatively quiet. That's not to say there haven't been damaging windstorms—we have already seen the likes of Abigail, Barney, Clodagh, and of course Desmond—but it's still early in the season. It's also an El Niño year, and a very strong one at that. So, what does this all mean?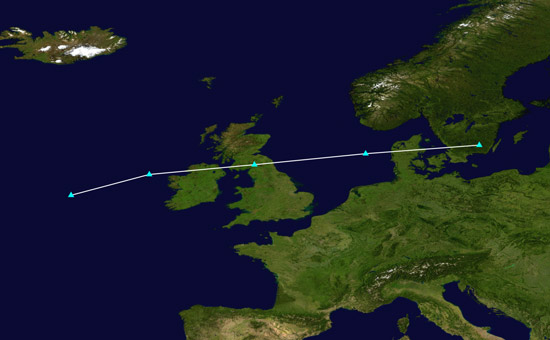 Track map of the 2015 windstorm Barney with points showing its location at 6-hour intervals.
(Sources: Supportstorm, NASA, and NOAA OPC)
Strong Equals More?
There was some early season hype from sources in the UK that suggested increased storminess and colder-than-normal conditions because of El Niño, but it may be just that—hype. The growing El Niño is expected to be comparable in strength to those that occurred in 1982-83 and 1997-98, and neither of those winters had even one significant damaging European windstorm (according to the Extreme Wind Storms Catalogue).
There is a greater likelihood, based on recent history, for damaging European windstorms to occur during moderate El Niño events. Storms Erwin and Xynthia caused USD 2.2 billion* and USD 2.9 billion* in insured losses during moderate El Niño events in 2005 and 2010 respectively. While the 1987 J storm occurred when the El Niño index was somewhat high, it had already peaked and was on its way down when the storm hit.
Low Severity
A closer look into the European storminess associated with moderate to strong El Niños indicates that strong storms can—and do—form during strong El Niños. The January 1983 storm, the February 1983 storm, and 1998's Fanny generated maximum wind gusts of 35, 32, and 35 m/s respectively. However, strong wind gusts do not always equate to classification as a severe storm. A metric called the Storm Severity Index (SSI), which is somewhat similar to ACE for tropical cyclones, indicates that these storms all had low SSIs because they were relatively short lived, narrow, weak, or some combination of the above.
A more comprehensive analysis of SSI with respect to the El Niño Index for European windstorms that occurred during moderate to strong El Niños demonstrates, if anything, a negative correlation. Although Xynthia ranks just below the February 1983 storm in SSI, Erwin has the twelfth-highest value in the Extreme Wind Storms Catalogue database and Jeanette―which also occurred during a moderate El Niño in October 2002―tops the list.
Other Players
By itself, El Niño probably won't have much effect on Europe this winter, though other climate signals and developing conditions may.
Sea surface temperatures are several degrees above normal over the central Atlantic, with colder-than-normal conditions farther north. That configuration suggests an enhanced north-south temperature gradient favorable for storm intensification. The Quasi Biennial Oscillation, which refers to the direction of winds in the stratosphere, is in its westerly phase as it was last year: that is also favorable for storm development. Further, the North Atlantic Oscillation Index can focus strong storms to northern or southern Europe depending on its phase, which can change several times in a given winter.
There are more indexes and climate conditions that could be discussed, but hopefully this illustrates that El Niño is not the only—and probably not the strongest—player in the game this year for European windstorms.
---
*Reflects 2012 USD rates.