If we ask ourselves where in the world the greatest threat from storm surge is, the Philippines may not immediately come to mind. But it should. The archipelago spans 15 degrees of latitude in the tropics and is situated on the western edge of the most active typhoon-spawning ocean basin on the planet. As such, it is threatened by some 20 typhoons each year.  
They don't all make landfall, of course, but of the eight or so that do there is a near guarantee that one will be a Category 3 or higher. With so many intense typhoons, an intricate coastline characterized by bays and inlets, and shallow bathymetry in many places, the Philippines is no stranger to storm surge.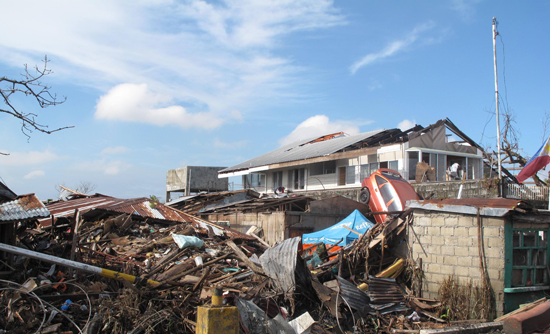 Buildings destroyed by Super Typhoon Haiyan in Tacloban, Philippines (Source: Henry Donati/Department for International Development)
Super Typhoon Haiyan in 2013 may seem as though it was responsible for the only significant storm surge in recent times, but a Philippine government organization known as National Operational Assessment of Hazards (NOAH) has documented some 50. Most of these have occurred since 1970, and some were even higher than Haiyan's—which was about 6.5 meters.
While a reported height is not available for more than half of the storm surges listed, they were nonetheless significant. In 1995, Typhoon Angela was responsible for 936 deaths and caused PHP 10.8 billion in damage. In 2008, Typhoon Fengshen killed 938 people and caused PHP 13.3 billion in damage. Of the 23 events that are listed with a maximum surge height, 14 have exceeded 4 meters and four have exceeded 8 meters.
Despite the long history of storm surge, it was only after the 6,000 fatalities from Haiyan that the Government of the Philippines took drastic action to identify all areas at risk. Leveraging a numerical storm surge model developed and used by the Japan Meteorological Association (similar to the one AIR uses for its storm surge model for Japan and which we are now developing for Southeast Asia), the study found many areas at risk. This has led to the development of an Early Warning System, which is designed to keep people in densely populated areas informed of possible floods, storm surges, or landslides up to 48 hours in advance. The storm surge warnings have three indicators—for surges up to 2 meters in height, from 2 to 5 meters, and for more than 5 meters.
Now, when the next Angela, Fengshen, or Haiyan hits, the region will be better informed and hopefully better prepared to evacuate—or better still, have the infrastructure in place to mitigate the damage.