No, I'm not referring here to Aesop, the ancient creator of The Tortoise and the Hare and all those other moral tales, but to the Actuarial Standards of Practice (ASOP). AIR recently published an updated client support document outlining ASOP resources relative to AIR catastrophe models.
The document is intended to be an all-inclusive guide to assist actuaries (or risk managers that support an actuary within their organization) in their use of our models—which may be outside their area of expertise— to support rate filings or for any other risk management decisions. It also serves to identify relevant considerations for conforming to the standards of practice. To gain a deeper appreciation for these standards, we must first consider how actuaries have come to rely on catastrophe models.
Before the advent of catastrophe models, standard actuarial techniques for estimating future potential catastrophe losses involved, for the most part, deriving estimates based on limited historical loss experience. However, for applications in loss modeling, the infrequency and varying severity of catastrophic events makes it difficult to estimate future losses based on historical experience alone. To see why this is the case, let's consider an example of what historical hurricane losses in the U.S. looked like between 1970 and 1991 as shown in Figure 1.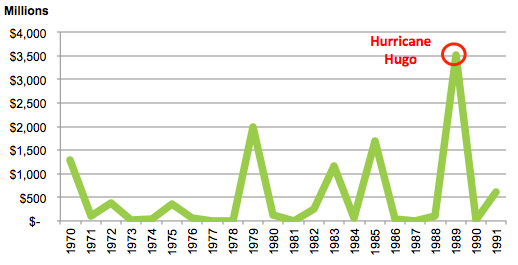 Figure 1: Historical U.S. hurricane losses, 1970-1991 trended at 7%. (Source: PCS)
Now, let's add just one more year, to our loss experience data as shown in Figure 2.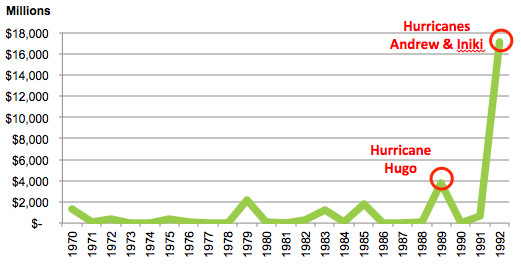 Figure 2: Historical U.S. hurricane losses, 1970-1992 trended at 7%. (Source: PCS)
Of course this additional year, 1992, was the year of Hurricanes Andrew and Iniki that served as a sobering wake-up call to actuaries and insurance risk managers everywhere. Had we relied on only the historical data from Figure 1, we would never have predicted a loss outcome of this magnitude for the future. This serves as a perfect example of how historical catastrophic experience may not be complete or necessarily reflective of future potential.
During the 1990s, the use of catastrophe models for estimating future catastrophe losses became the popular choice for actuarial applications in insurance. By means of sophisticated modeling techniques based on computer simulation, catastrophe models provide hundreds of thousands of potential loss outcomes to offer a comprehensive view of the entire risk landscape—including events that may not have happened historically but are still plausible for the future.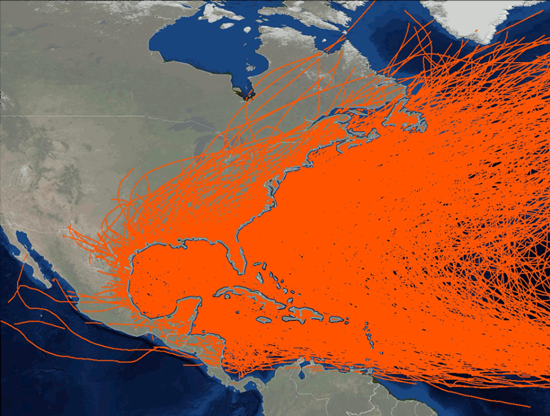 Figure 3: Simulated hurricane tracks depict a comprehensive view of risk to the U.S. (Source: AIR)
While actuaries are widely in agreement that catastrophe models offer the most realistic view of catastrophe risk, the actuaries themselves are not necessarily experts in the science of tropical cyclones or other modeled perils. For this reason, the Actuarial Standards Board (ASB), which establishes the standards for actuarial practice in the U.S., issued guidance regarding actuaries' use of complex models, including catastrophe models.
The ASOP #38, titled Using Models Outside the Actuary's Area of Expertise, was first introduced in 2000 to satisfy questions surrounding steps the actuary should be responsible for when relying on catastrophe models. As part of this guidance, ASOP #38 enumerates five basic responsibilities for the use of complex models outside the actuary's area of expertise, including:
Determining the appropriate level of reliance on experts
Demonstrating a basic understanding of the model
Appropriateness of the model for the intended application
Validating model input and output
Appropriate use of the model
Relying on the output produced by catastrophe models while also needing to satisfy the requirements of ASOP #38 is no easy task for an actuary. At AIR, not only does our staff take good care to understand the standards of practice that our actuarial clients must uphold, we also work to ensure the appropriate resources are available to assist with ASOP #38 compliance.
As part of this effort, we hosted a webinar discussing best practices for using AIR catastrophe models in support of actuarial standard compliance. Concepts presented during this webinar were intended to provide a high-level overview of the more detailed guidance that can be found in our updated client support document.
AIR clients can log in to our Client Portal to access both a webinar recording and the client support document. In addition to these resources, AIR client services and research staff are always eager to assist our clients with their needs related to actuarial standard compliance. And of course, if you are not yet an AIR customer, I'd love to hear from you!